An FMEA tool for quality in manufacturing
Centralize your Process FMEAs, flow charts, control plans, inspection procedures, work instructions, and workstation charts in the same database
Control quality by focusing on risk management and monitoring of actions rather than on administrative tasks
Zero stress during audits: Everything—from the initial plan to the PPAP qualification file—is up to date and coherent
Save tons of time on updates
Print all of your documents and your PPAP details automatically and instantly
Run your reviews in Reverse FMEA mode using the web version
Motivate your teams by getting them involved
A Process FMEA tool and much, much more!
Robust Manufacturing Software centralizes all the data needed to manage production risks, an important part of the continuous improvement process. Coherent information is shared throughout all of the various steps:
Boost efficiency and motivation
Train your teams in FMEA, the FMEA method and/or FMEA tools
Lead and delegate action plans easier

Internally with the software, for each study
Using Action Facilitator, the action plan management program
With a connector to how you manage your company action plans

Use wide-screen projections during your FMEA work group meetings and not only for final reports. A simple filter at the beginning of the work session helps identify all changes that have occurred since the last milestone (traceability).
Move quickly between one customer sizing to another in the same study – from Renault to PSA, for example.
Automatically generate concise, standardized, and coherent documents on your letterhead and in a format that can be given directly to your customers.  We propose different report formats, and we can incorporate your graphic charter for a modest fee (PDF, Word, Excel, or Dynamic HTML formats).
Depending on the connection profile, users can access the only view they need to see directly and immediately and with the appropriate interface.
The tree elements are displayed using modifiable colour codes according to the criticality thresholds. This helps you target the key points to work on instantly.
Graphic filters, sorting tools, access to the searching for causes through Ishikawa diagrams.
Special cut/paste functions (tree branches and their corresponding charts), including from one study to another.
Connect to other software programs in your IT system: Management of company action plans, statistical process control (SPC), management of quality (non-compliances), etc.
Bring your Reverse FMEA meetings to life in the workshop via the web FMEA version
A flexible and adaptable Process FMEA tool
Robust Manufacturing Software is both a standard software and an FMEA solution that can be tailored to your needs, habits, and reference document in terms of interfaces, methods, libraries, and reports.
The program can interface with other applications in your IT system: Connection with the SPC, retrieval of your CAD dimensions into your FMEAs, with your action plan management system, with non-compliance monitoring tools such as TEEXMA for Quality, etc.
Robust Manufacturing Suite contains all of the advantages of its predecessor:
2019 AIAG & VDA Handbook (see information about the AIAG-VDA mutual effort or our webinars)
Or the classic AIAG 4th Edition and IAQG
Improve manufacturing quality and save a lot of time
Learn how to trace and justify all changes in the event of an audit
Facilitate accuracy and ensure coherence
Guide and standardize Process FMEAs
Robust Manufacturing Software guides your teams through the reference-document milestones you have chosen to ensure the indispensable process of quality in manufacturing known as Advanced Product Quality Planning (APQP):
Build a tree for the chain of operations with the manufacturing flow chart.
Fill in Process FMEA charts to identify the risk of product failures emanating from the process: Process failure modes, customer effects, origins, means of prevention/detection, implementation.
Perform scoring: Frequency, severity, (non-)detection.
Manage setting up of preventative actions at different levels using the elements that have been identified as critical (Action Priority, RPN only, frequency/severity pairing, or RPN/severity pairing).
Direct the monitoring of special or key features.
Generate consistently coherent documents and FMEAs with ease—from the control plan to workstations (control instructions and workstation charts).
Create standardized and uniform FMEA studies for the project teams and your whole company—which, in turn, boosts efficiency, simplifies reuse, and adds to your solid image in the eyes of your customers.
Zero stress for your IATF 16949 and ISO 9001 audits
With each new study, you'll begin with the "correct" reference document and all of the charts and documents that are attached to it, whether it's the 2019 AIAG & VDA Handbook or the AIAG 4th Edition.
The tool lets you share data and links between the Process FMEAs, control plans, flow charts, inspection procedures, workstation charts, and special characteristics.
[Take a look at what FAURECIA has to say]
Save time and accrue your data
Build as many effect, mode, cause, and means of prevention libraries, etc., as you need. These libraries are linked together. Consequently, the tool can filter the usual failure modes connected to an operation type, as well as the usual causes associated with a failure mode, and so on. Your studies will employ the same technical language throughout each, and you can increase accuracy through these options.
Of course, you can add to and enhance these multi-lingual libraries if you have the user rights.
Robust Manufacturing Software integrates powerful and easy-to-use organization of generic FMEAs—either at the FMEA or the operation-by-operation level—to retrieve all the company's accumulated intelligence instantly and to distribute it within each specific study. Adding information to generic studies can be done in an automatic, continual, and cumulative manner across a variety of projects under the supervision of a responsible party who validates each integration.
With a right-click at any time, you'll see where the information in each cell comes from (creation, generic, etc.) and who has executed the changes, on what day, and at what time—providing leading-edge traceability to each datum.
Example of Process FMEA following the AIAG 4th Edition reference manual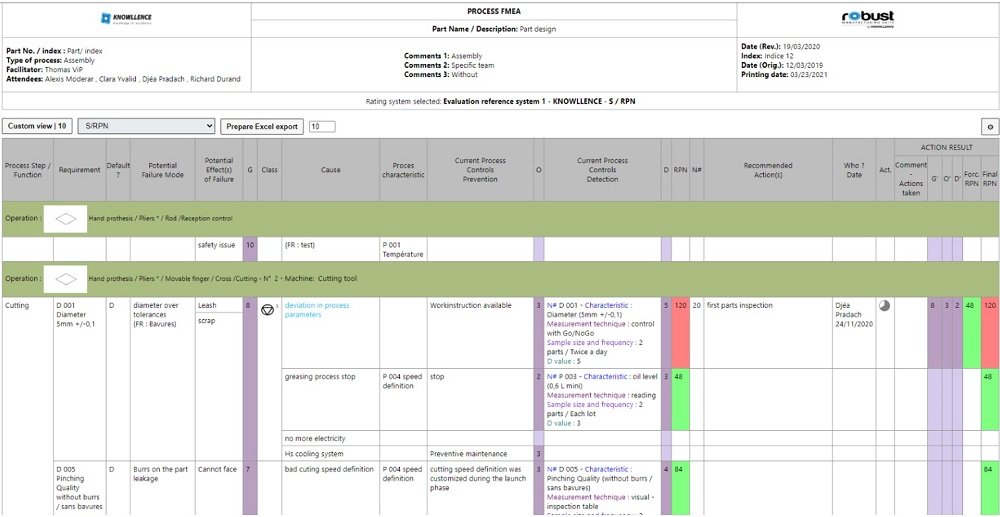 ​Example of Process FMEA following the 2019 AIAG & VDA Handbook
TDC Process FMEA has become Robust Manufacturing Software
Our Process FMEA software has changed its name since its scope goes well beyond the Process FMEA studies!