Action Facilitator is a plug-in for the Knowllence software suites that can be activated with any modules you currently use.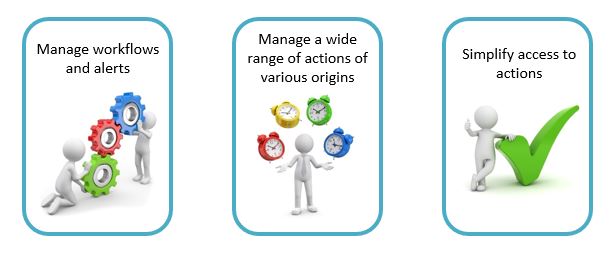 Why should you use a company action plan in addition to the Knowllence suites?
Through their different modules, the Knowllence software suites manage integrated action plans in coherence with your risk assessments, but this can be a bit too restrictive if you would like to:
Integrate actions that are not directly linked to your risk analyses (Occupational Risk Assessment Reports, chemical risk assessments, FMEAs)—for example, actions resulting from your internal or external audits
Update cross-functional actions at your different sites without having to open each study
Set up a workflow that is more complex than simply alerting the person responsible for actions​
What are the advantages of a company action plan?
Action Facilitator is an internet plug-in for all of your Knowllence software suite modules that manages your action plans either at your department or division level or globally within your company regardless of the type of project:
Each action follows a standardized and controlled process (workflow).
Find your actions easily using the search tool.
Each person who needs to be informed of an action status during its life cycle is alerted when they are involved.
Of course, what you already have can be fully integrated. Action Facilitator not only compiles actions coming from your various risk studies, but you can also reverse the course by initiating an action from Action Facilitator to all your Knowllence risk analyses without extra costs for licences.
Your working documents and correspondence are centrally located—and always up to date.
Say goodbye to wasting time and energy on sending reminders! No more forgetting or duplicating actions!
Action Facilitator is also a clear means in developing a sense of engagement in everyone involved, as they know what they must do and will see the overall progress.​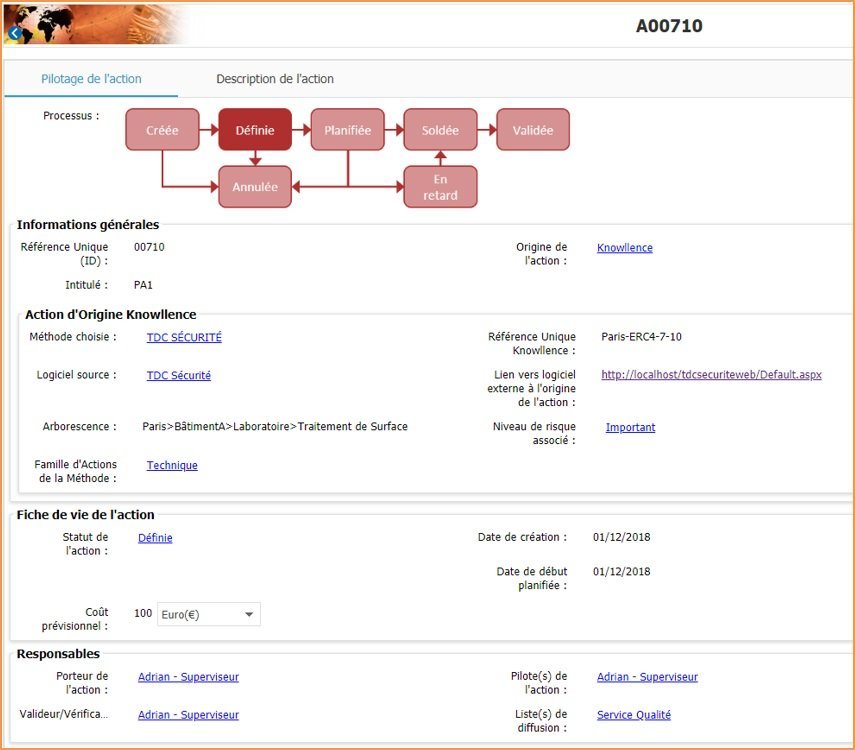 How can you manage your HSE or FMEA action plans?
Action Facilitator allows you to monitor the workflow of your actions and gives you a comprehensive view of your HSE Department, Company, or FMEA action plans for easier supervision.
For any given action, you can define specific roles (requesting, piloting, approving, checking, or monitoring) to work together.
The application can send emails, notifications, and reminders to anyone involved as the action follows the course of its workflow.
You'll find each action quickly and easily through either simple or multi-criteria search modes.
The tool automatically integrates all actions for your risk analyses, whether they come from your Occupational Safety Assessments, management of work-related accidents, chemical safety assessments, or your Design-FMEA or Process-FMEA software.
The tool helps you add new actions in Action Facilitator and lets you create actions your service needs that are not correlated to a risk (meaning outside of the TDC Sécurité, FMEA applications, etc.). This allows you to manage actions such as:
Writing up missing workstation safety charts and displaying them
Sending accident-rate statistics for the next department meetings
Listing and proposing alternatives to the CMR substances used in the factory
Closing non-compliance forms after a production incident
Monitoring actions after an audit
You can immediately see the actions that are late or that need validating, the actions you are in charge of, and the actions you are following.
At any time, through the software you already have (TDC Sécurité, FMEA), you can print your regular work and correspondence documents that have been updated using Action Facilitator—such as action plans about critical elements (FMEA) or critical risks (Sécurité), the convergence plan, or an action plan as a Gantt chart.
How can you save time on monitoring action plans?
With Action Facilitator, you won't be left in the dark about the following issues any more:
Have the actions that are not directly linked to the Occupational Risk Assessment Reports or my Design/Process FMEAs been taken into account?
Are the parties responsible for actions aware of the actions to process?
Do they need to be reminded?
Is the person who approves aware that the action is finished?
Has the action been checked?
Are the employees who are not familiar with the principles and the occupational risk assessment software going to be able to move their actions forward?
What is the status of the action plans at the department or organizational level?  How can you have a reliable, overall picture with little effort?
A simple right-click on any action in any of our Knowllence modules will automatically take you to your action in Action Facilitator. Each person sees what has been assigned to their rights and roles. The organization has a reliable, coherent, and always up-to-date database for all of the selected action plans.