Capture the requirements, structure and capitalize the Functional Analysis of Needs
Value Management, EN 1325-1 and French NF X 50-151, APTE® method
A formalized and standardized approach for Functional Analysis of Needs
TDC Need software helps you express your right questioning as of the beginning of a project, not taking yet into account the solutions, thanks to a functional and comprehensive expression of needs .
The Functional Analysis approach used is based on European and French standards EN 1325-1, NF X50-151, and on the APTE (©) method.
TDC Need is used as a support to the design process, the value analysis or supplier consulting, along with ready to dispatch documentation, automatically generated. Standardizing and ordering the capitalized data into Functional Specifications also pertain to its features.
Evolution of needs management
Traceability is handled for every individual data: use phase, function, performance criteria, etc. Thanks to the access to all the dates, authors and contents of the changes, you can, for instance, filter all data not being changed since the latest project review or list up the successive evolutions of a particular task.
Improve your responsiveness in Project Management
Used in video projection, TDC Need facilitates the reflection of the Working Group, through the various tools: Octopus, matrix of completeness, crossover sort. Direct functional tree can save a lot of time, and thus improve the effectiveness of the meetings. More than genuine documentation publishing, characterization charts and 'to do actions' can also be shared, thus improving efficiency between sessions.
Maintaining data consistency during the Design Process
The methodological data consistency is ensured by the sharing of data between the various tools throughout the design process, :
TDC Need captures the voice of the customer and structures the "actual" need using functional analysis.
TDC Structure (software for Functional Block Diagram and SADT) crosses needs and technical breakdown structure or optimizes the (re-) design
– TDC FMEA deals with the Design and/or Process FMEA studies, monitoring plans,manufacturing synoptic overview, job description… TDC FTA handles Fault Tree Analysis.
Interfaces if needed with other software of your information system : requirements management, statistical control of processes (SPC), action plans, Tolerancing, Manufacturing Process Management(MPM) or any specific development.
Features
Several deliveries can be automatically generated upon the end of the worksession: Functional specifications as design input data, FPS, purchase specifications, machine specifications, value analysis, validation / qualification plans, etc.
Approach and terminology customizing: validity control, environment diagram, discovery matrix, tree, characterization type, crossed sort out
Graphic filter: all changes in the study since or at a given date, etc
MS Word direct paper printouts (style sheets) and XML reports.
Special Copy/paste (tree branch and its characterization..)
Value analysis: compares cost dispatching with importance weight given by the user and so identify satisfaction improvement ways based on various product scenarii (options, versioning).
Link to requirement management
Function, performance criteria, … library management.
Multilingual management of the study data. Interfaces available in: French, English, German, Spanish, Portuguese.
Spellcheck
Facilitator annotations: comments on the workgroup life, 'to do' tasks or links to files or URL.
Tasks input and function characterization done by workgroup members, off meeting.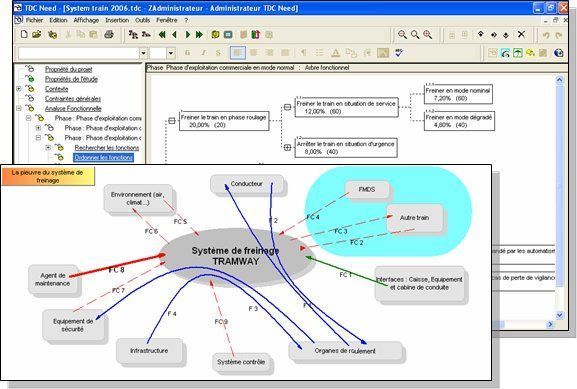 "Pieuvre" outil graphique de la méthode APTE ®
This Functional Analysis software will help you in implementing the following norms and recommendations :
– NF X 50-151 – NF X 50-152
– EN 1325-1 (was turned into EN 1325-2 on 12/31/04)
– EN 12973 (value management)
– FD S99-130 (for hospitals)
– French APTE® Method
---
TDC Need is a software belonging to Robust Engineering Suite or Medical Device Suite.
Licences provided by and available from Knowllence
Don't hesitate to contact us !