Past Events
Hereafter the past events where Knowllence was present. You can find our collaboration with BASSETTI Group, especially regarding the new FMEA AIAG-VDA standard or our participation in the International Exhibition of Machine Tools, Manufacturing Technologies and Automation.
You can also visit our blog to have more information on other subjects or read the testimonials of some of our customers on their use of our software.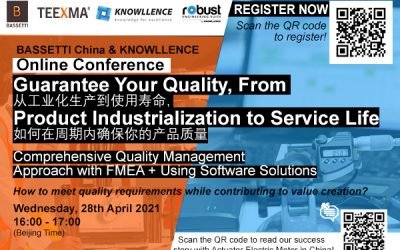 Bassetti China and Knowllence invite you to our next webinar (Beijing time):How to articulate and share information so that each department (from methods to after-sales service) meets quality requirements, while contributing to value creation?Discover our solutions...