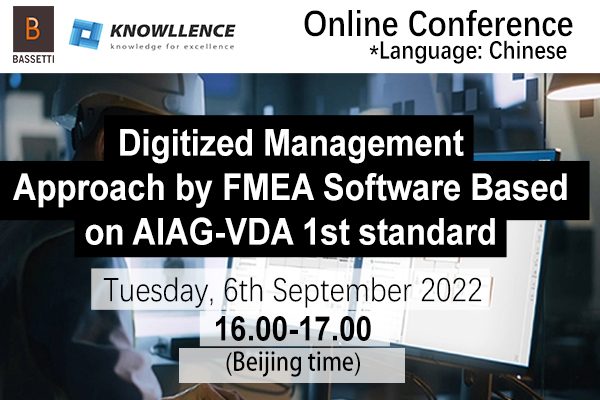 遵循AIAG-VDA标准的FMEA软件助力您的电子化管理进程
Online Conference
在线会议
Tuesday, September 6th 2022 (2022年9月6日, 星期二)
16:00–17:00
(Beijing time)
Language: Chinese
语言:中文 

To discover during the Online Conference
 在会议上了解更多相关内容 
How to make FMEA structure analysis?
如何做好FMEA的結構分析?
How to create the failure chain?
如何搭建失效模式失效鏈?
How to replace AP of RPN?
如何讓AP取代RPN?
How to be compliant with the 7 steps of AIAG-VDA guidelines?
如何遵循AIAG-VDA 7步法 –汽车行业最新标准

Planning and preparation 策划准备
Structure analysis 结构分析
Functions analysis 功能分析
Failure analysis 失效分析
Risk analysis 风险分析
Optimization 措施优化
Result documentation 结果文檔化
About BASSETTI China
关于巴施帝中国
Founded in 1992 in France, BASSETTI is an international group based in Asia, Europe and North America specialized in Technical Expertise Management® for R&D and Manufacturing departments.
BASSETTI 在 1992 年于法国成立,是一家覆盖亚洲,欧洲和北美的跨国集团公司。BASSETTI 集团致力于为从事研发和生产的企业提供专业技术管理®。
In 2008 BASSETTI China started in Shanghai, which gave way to the company's entrance into the Asia Pacific technical markets. For the past 10 years, BASSETTI China has been working with many key actors of Automotive, Healthcare, Transportation, Electronics, and Health Care Industry. We provide LIMS, QMS, FMEA, and other Software Solutions to meet our client's challenges in the technical departments.
在过去的10年时间里,BASSETTI 中国和汽车,医疗,运输等行业的很多业界领导者都有着长远的合作。我们通过为客户提供LIMS, QMS,FMEA,Material 等智能化软件系统和工程服务,来解决其技术部门在工作中所遇到的挑战。
For more information about BASSETTI China, click here.
点击这里了解更多关于巴施帝(中国)
About KNOWLLENCE
关于KNOWLLENCE
Knowllence is part of BASSETTI Group, an independent French digital company that provides Risk Management software programs (RMIS), with specific applications at all levels of the organisation:Enterprise Risk Management (ERM), Occupational Health and Safety Environment, and Design/Process Quality.
Knowllence 隶属巴施帝集团旗下,是一家独立的法国数字化解决方案公司,旨为广大客户企业提供全面的风险管理软件程序(RMIS)。其能够应用在企业的各个层级如:企业风险管理(ERM),职业健康和环境安全,以及设计、流程中的质量管理。
For more information about KNOWLLENCE, click here.
点击这里了解更多关于KNOWLLENCE