Bassetti China and Knowllence invite you to our next webinar (Beijing time):
How to articulate and share information so that each department (from methods to after-sales service) meets quality requirements, while contributing to value creation?
Discover our solutions dedicated to quality throughout your production cycle !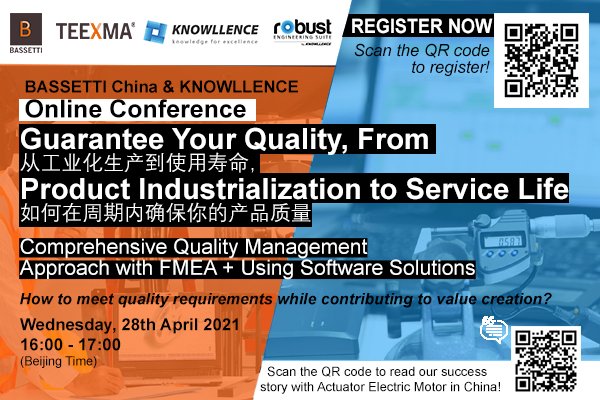 Program of this Webinar "Ensure Quality"
Make the right choices in industrialization with the FMEA: guide product and process design,
Control the process in proto, pre-series and production phases,
Manage your audits and track your results,
Report and track non-quality events,
Eliminate non-conformities and manage investigations (8D, QRQC or specific),
Capitalize and cross-fertilize for your customers and future projects,
Capture the tasks of the Reverse FMEA,
Manage and keep alive all your Quality documentation,
Manage your action plans.
Discover our TEEXMA and FMEA software
To know more…
If you are not available on that day, or if you wish to know more before booking 1:30 for us… Don't hesitate to fill the following form !