Map your business risks and manage your action plans
Version 2015 ISO 9001 and 14001 introduce now strongly the notion of "risks linked to threats and opportunities". Pilot with risk management  ensures the robustness of the Management Quality System and the sustainability of the organization.
Why mapping the business risks ?
Versions of the ISO 9001 and 14001 2015 introduce explicitly the notion of «»risks related to the threats and opportunities».
ISO 9001:2015 leaves freedom for companies to choose the method by which the risks associated with the threats and opportunities are determined. This method may involve a straightforward qualitative process or a comprehensive quantitative assessment, depending on the context (for example, size of organization, technology sector, maturity of the environmental management system).
If you want to opt for an approach based on the risk extended as required by ISO 9001, ISO 31000 provides guidelines on the formal risk management.
Our Risk Management software guide through the risk assessment, offers substantial content and allows to manage the action plans arising therefrom.
Accessible from your usual internet browser, it is easy to implement.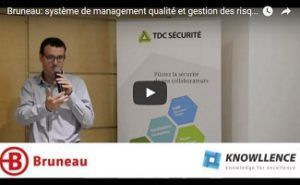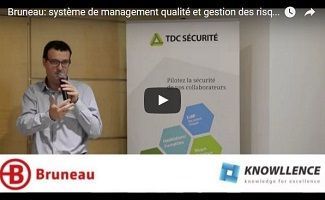 Bruneau Customer advice: Operational risk and ISO 9001:2015
Methodological guide for risk management
Our Risk Management software helps you to wonder in a systematic way about the management of risks across the enterprise.
It proposes an approach and extensive libraries that allow you to verify that you don't forget any point of the four categories of threats described in the ONR 49000 standard :
Strategic threats – product and customer,
Threats inherent to knowledge management and employees,
Threats inherent to business processes
Financial risks.
You specify for each category the threatened areas and checkpoints. You will need to assess quantitatively the impact of each threat: effects, severity and probability of occurrence, thanks to a grid of 4 risk levels (more or less acceptable=.
You will get as a result a document summarising the areas where the risk is the strongest, with diagrams etc (Kiviat diagrams)
This work will allow you to target priorities and action plans.
Action Plan Management
Monitoring your action plan resulting from your enterprise risk analysis will allow you to register in a process of continuous improvement, and you will be able to submit your good practice for limiting risks from banking, insurance, but also of your shareholders and clients.
This action plan can be managed either internally in the software, or be injected into your usual action plans management tool if you have one.
Easy implementation and traceability (historical)
You automatically generate a Summary of business risks and action plan sheets.
All changes are easy to input in the risk analysis: evolution of the Organization, new dangers, results of action plans… You can more easily involve the different actors with the tools of delegation (and control) on the progress of the various tasks.
3-minute video: Overview of enterprise risk management software (in French)
Some examples of screens and reporting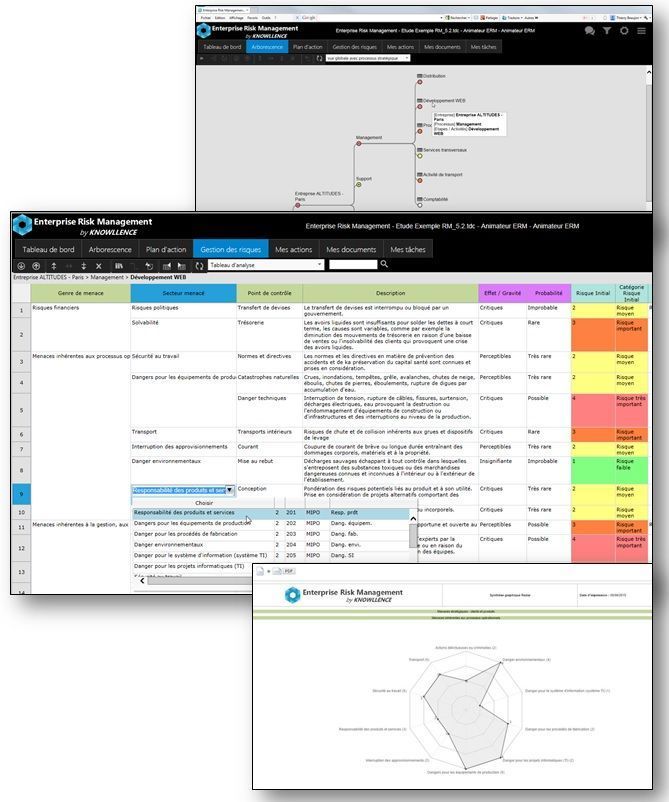 This enterprise risk management solution can be customized to your work habits: don't hesitate to contact us !