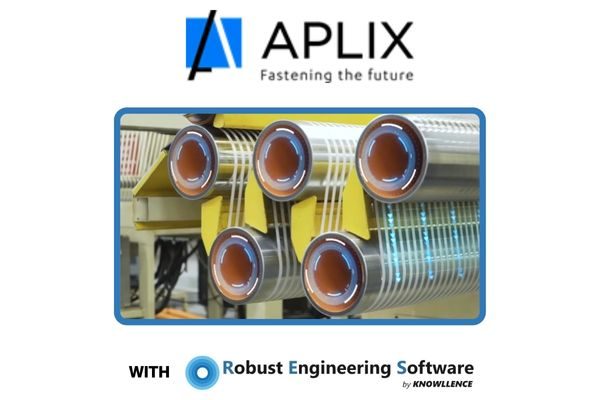 ​APLIX invested in Knowllence software in 2017 to replace the countless Excel files that everyone was adapting to their habits. The objective was to centralize and homogenize the work, particularly in terms of Process FMEA studies.
Interview from April 2021
Mr. Caillaud is our methods technician and the key user on FMEA. The software is mainly used for automotive customers, even if APLIX works with a wide variety of markets. Today, we have about 80 users of Robust Engineering Software, through the 5 following functions:
Engineering, mainly on Need
R&D, on Need and FMEA for Design FMEA
Methods, for Process FMEA
Maintenance, for Service FMEA
Quality, for Monitoring (Control) Plan
"My approach to FMEAs is a little unusual: we include elements of machine control in our Process FMEAs, which are usually carried out elsewhere and later in the process. I can easily manage my 15 machines, despite the volume, and it's easier for my colleagues who process the 35 FMEAs.
At APLIX, we manage more than fifty FMEA studies, sometimes on quite old machines.
I have chosen to use the libraries to capitalize on the information across the various workshops, which allows the auditors to check the consistency of our projects and ensure the absence of gaps.
The FMEAs are of course important to meet the auditors' requirements, but they are especially indispensable for all new machines, to eliminate the biggest risks and create the appropriate actions. Thanks to our database, the right means of control and safety measures are directly put in place.
I took this job in 2019, I then discovered FMEA and the software. The FMEA software is not complicated, the proximity of its ergonomics, regarding copy and pasting, brings it closer to Excel. This is a strong point as soon as you know a little bit about office automation.
I am happy with the software and what I'm able to manage with it. I have even recommended it to other manufacturers!"
Learn more about APLIX, the hook and loop fastener specialist
For over 60 years, APLIX has been designing, producing, and marketing innovative hook and loop fastening systems. APLIX is the specialist when it comes to fastening, fixing, linking, assembling, closing… Today, APLIX is one of the world leaders in hook and loop fasteners, with an unlimited range of applications in a wide variety of sectors: aeronautics, construction, hygiene, medical, military, cleaning, packaging, automotive.