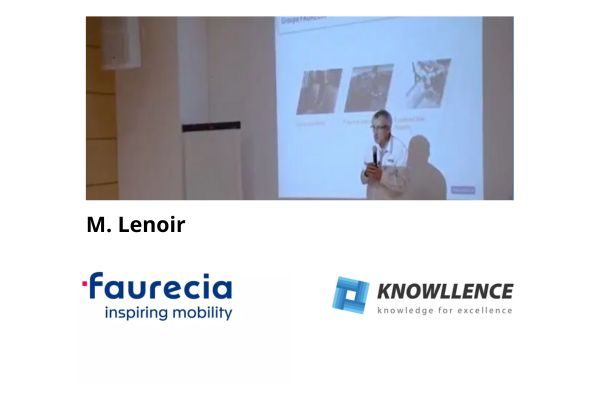 Organisation and management at global level
In October 2017, during our Users Club, Mr. Lenoir did us the honour to present the « organisational » aspect of Quality and FMEA at Faurecia. He explained how its division is prepared to exploit in particular the Knowllence FMEA software in the management of complex projects, on complex products, and this at about 40 sites worldwide.
Faurecia is one of the historical Knowllence customers for Need, Structure and FMEA software, which have been deployed worldwide for many years.
Complex products/ projects and Quality organisation
Faurecia works at a global level, with research centres that are spread across all continents and that are more and more autonomous. The same products ranges are developed worldwide, with the same quality requirements.
A car seat is a complex product, which has to ensure many functions.
Faurecia uses risk analysis techniques and FMEA software to formalize customers' requirements, and to anticipate the risks of loss of performance in relation to these requirements.
The Faurecia group as a whole has chosen to deploy Robust Engineering Suite software: Need and Structure for Functional Analysis, FMEA for Design & Process FMEA and key characteristics.
Training to FMEA method (design FMEA and process FMEA) and software are carried out within the Faurecia School by experts. There is also a team of Key Users that facilitate deployment to the multitude of FMEA facilitators (Moderators). This organization allows capitalizing feedbacks, at the worldwide level.
FMEA in project management at 40 sites around the world / globally
Mr Lenoir explained the importance of FMEA in the management of Faurecia complex projects and Quality monitoring. A Faurecia project lasts from 2 to 4 years. There is an « acquiring » part with the specification analysis (managed in Need software), then a « product and process development » part, a « pre-industrialization » part, the « launch » and the « serial life ».
At each milestone there are expected levels of requirements for each Design FMEA or process FMEA, measured during « robustness audits ». The FMEA studies are one of the elements of the quality system.
Since everything is structured and capitalized in Robust Engineering Suite, the capitalization can be carried out on design FMEAs, but also on Process FMEAs and production lines, notably through Generics and through the feedback work managed by the Key Users.
The working language is English in all cases, the control plans and work instructions are also managed in the local languages (Chinese, French, German, Spanish, etc.)