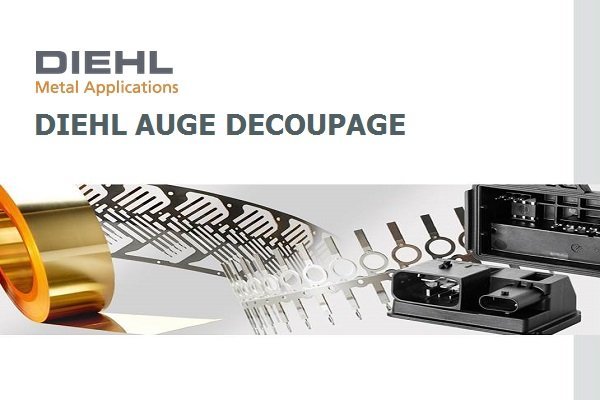 Located in Besançon, DIEHL AUGÉ DÉCOUPAGE is recognized for the development, cutting and over moulding of precision parts and for its control of multi-functional parts of metal and plastic. The proposed solutions are internationally successful in automotive, electronics and aeronautics. With around 160 employees, this site is certified IATF 16949, ISO 9001: 2008, and ISO 14001. It is a company of DIEHL METAL APPLICATIONS, headquartered in Berlin.
Knowllence software for FMEA studies has been used on this site since 2008.
Interview of Mr. Langolf, Project Quality Manager / Customer-Metrology, conducted in March 2019.
Why a software configured to Diehl habits?
I am the Key User of FMEA software for Process FMEA, control plan and control ranges. We are about 5 regular users of the software. Originally, only the Quality department used the Knowllence software for its FMEAs.
The Method service worked independently for control plans and control ranges. This regularly caused us non-compliances during internal audits and client audits.
We have therefore adapted the software to our habits, now all these documents are centralized in the Robust Manufacturing Suite database. We don't have ample history data to prove that there will never be any gap, but the structure implemented with the software guarantees a function where the same data is shared and therefore automatically updated on all documents, as soon as it is modified by one of the services.  During our next customer audits we expect much better results, especially for IATF 16949.
In addition to the Process FMEA, control plans and control ranges, we also use the management of actions in relation to the RPN calculations, which allows us to target our work in a cross-disciplinary fashion through the various studies.
What are the benefits achievable with the software?
We have created a generic FMEA integrating all our processes: the team does not start with a blank page, so there is a serious time savings on all the recurrent work (routine). The team starts from an exhaustive base which they can to amend according to the needs of their
The possibilities to copy/ paste as in Excel are practical. We also have structured libraries.
The studies and the generics are managed in both French and English, which allows us to easily generate the Control Plan in English when it is relevant.
Using FMEA software is also more visual and modern: this is appreciated during customer audits, since it is easy to guarantee that the information is consistent and managed throughout the process.
What do you think about FMEA and Knowllence?
I had the good fortune to come across this software many years ago, during my previous professional activities. Found it at Diehl and getting it customized to our habits is a game changer. I recommend this FMEA solution!
I am also happy about the relationship with Knowllence as a supplier: the hotline is helpful when we have questions and in a timely manner. They organise regular meetings with other clients; it provide us with inspiration to change our Quality practices.
Information sharing during repository evolutions is also interesting in terms of technical intelligence: we do not know yet how to evaluate the impact of the alignment of American (AIAG) and German (VDA) automotive repositories, in terms of our customer's requests. Knowing that Knowllence is active on this subject is reassuring.