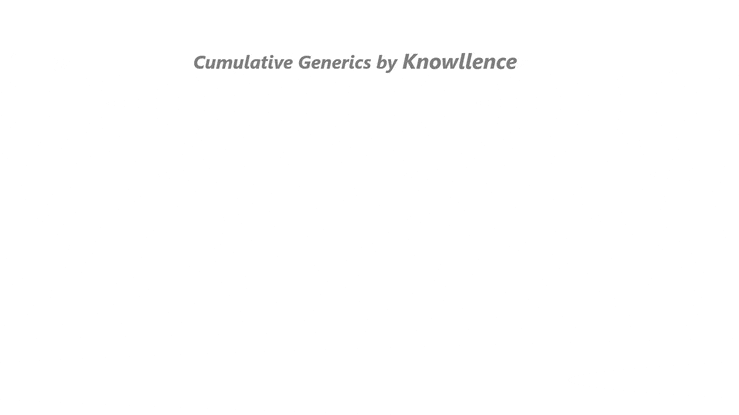 Generic studies?
Saving time during design and process?
Begin by reusing what you already have!
Knowllence tools are here to help in managing generic studies.
(An informative video is available for current customers with online access)
Cumulative generic studies: Save time when designing new products
Across the board, development cycles seem to be shortening. New products need to be launched within 18 months, rather than three years as before. So that design teams can handle these reduced deadlines, they must have the means to reuse existing projects to save time and be more efficient without affecting quality. In recognizing this change, Knowllence has developed the concept of digitalized and cumulative generic studies based on a research program financed by BPIFrance several years ago.
Definition: Generic versus Library
Knowllence applications normally share data using libraries—lists of organized information limited to a few words to be input into several columns at a time: Effects/Modes/Causes/Means of prevention in a FMEA chart.
For example, when we chose the "No electronic response" default setting, the cause library will propose the power supply, Joule effect, electromagnetic emissivity, and so on, as possible causes.

With one library, you have different alternatives for one topic.
On the other hand, a generic study displays an already filled in chart, with the choices already recorded from the previous project studies. A generic study will reuse a sub-assembly of common, "prewired" elements for the design/project that you only need to vary. The generic study filled-in charts are organized by product function or product components—depending on your choice in the initial study. This potentially means less flexibility than with the libraries as you begin with an established functional or system architecture .
For example, all of the functions seen in a "Product Use" phase are already filled-in in the FMEA chart.
How can you tell if that information is generic or not?
The idea is simple: Identify the elements that are shared and reusable from one project to another. These elements can become the internal reference elements, which help compile your company's know-how within a product or process range.
If we take the example of specs for a vehicle, everything that concerns the use phase and its service functions can be used, regardless of the type of vehicle, whether it is to transport people, luggage, or animals, to ensure safety, and so on.
On the other hand, the performance level of these functions will vary: Does it hold three or 50 passengers? Is it for a cat or a horse?
By storing these common elements in our cross-functional study, our "generic specs" study prepares the framework for the studies to come so you do not have to "reinvent the wheel" so to speak. Teams begin with a completed form needing marginal work so that they can concentrate on the points that are truly important.
In working with cross-functional risk analysis, for example, the generic failures and causes can be saved so that teams can focus their energy on the failures and causes that are specific to their projects by adjusting the status of failures and causes that are known without having to start with a blank page.
On an IT level, these generic elements can be saved in one or more files depending on pertinence.
What do we mean by "cumulative" generic study?
Creating one or more generic studies is a good thing to do at any given time.
But the goal is really to have it last over time and to create an active and ethical system: Knowllence has integrated an innovative system for managing cumulative generic studies that augments the studies as each project is carried out.
That means that "Project A" can reuse the generic elements that it needs. During the development and life cycle of "Project A", any additions, changes, or deletions are done to the data to generate a full and specific study.
If we want to take advantage of the design process by learning from it, it is important to take the time to review and make decisions by asking the following questions: "What needs to be taken from 'Project A' and put into the generic study or studies?" In other words, what are the pertinent data that can be reused for subsequent studies? How can we make sure that the new projects begin with the most up-to-date database possible?
The IT mechanisms involved in Knowllence software programs are simple: The authorized individuals just need to launch automatically or manually the propagation of the "good" elements to the generic study.
This can be done through traceability of each datum (author, when, and what). Using the filter or right-click functions, you can verify the origin of the information and decide to add it to the generic study if it isn't already in there.
Some examples of cumulative generic studies
We've already talked about typical specs above that can be adapted across a product range, but this approach can also be applied to risk studies:
All of the usual functions our Knowllence flagship tools provide with their FMEA risk analysis charts allow you to manage diverse designs for all variations of a product (Adult/Child, for instance).
Storing each process operation and all the elements they contain in as many generic studies as needed allows you to build flow charts (manufacturing flow) and Process FMEAs in a snap.
Any updates in a generic study can be propagated to any study currently in progress
For example, if you update information about a failure (a score) in a generic study, you will have the choice to propagate this change in any chosen study or studies automatically. The information will be updated only if the value coming from the generic study has not been changed already. This can be extremely practical for duplicating new instructions across a product range after a customer complaint, for instance.
As another example, you can always make changes directly in the FMEA chart of a reference following a customer complaint. The team that updates the FMEA can insert this change into the generic study if they feel it is pertinent. The team in charge of the generic study can then propagate this change across other specific studies as needed.
Generic studies make innovation easier (although you wouldn't think so)
By spending time reusing portions of existing studies, you might think that generic studies could never involve innovation, but the exact opposite can happen, in fact. All of the time saved on routine design allows project teams to concentrate on areas of risk regarding the new technical designs.
Innovation is therefore unrestrained through structuring and easing of everything considered routine. The design and innovation processes become more robust.
Put your ideas in motion with Knowllence's consultants!
Only one day is needed to analyze your starting point and initiate operational use.
By scrutinizing your project organization, products, and processes, our consultants can help you reflect on the structuring of generic studies (finer points, volume, grouping by families, etc.) and what needs to be set up so that the system remains relevant over time.
You'll then have the solutions to carrying it all out in house or to engaging us for these tasks if you have neither the time nor the internal resources.
(2017)