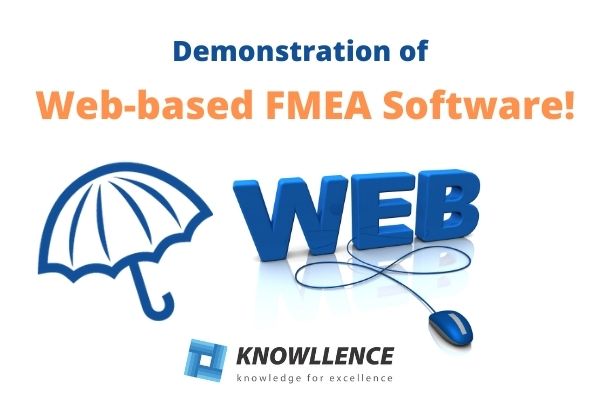 Continue your FMEA studies with a simple web browser!
The new FMEA software interface is accessible by Chrome, Firefox or Edge.
Give us 30 minutes to discover this web extension to Robust Engineering / Manufacturing Suite
Demonstration of our web-based FMEA software
How to strengthen collaboration, accelerate the deployment of best practices and simplify teamwork?
FMEA web makes it even easier to deploy your quality and FMEA repositories, in addition to traditional Windows licenses:
Teleworking is facilitated: for action plans, changes in FMEA studies or even facilitation of meeting via webconference
The simplified web interface makes it easy to learn and deploy, especially for occasional users
Find your usual repositories: Design and Process FMEA, AIAG-VDA
Share data and ensure consistency of Design FMEA, Process FMEA, Control Plan, DRBFM, Reverse FMEA (directly in your industrial workshop, via a tablet), action plans, etc., within a single database
Your studies are available worldwide for your engineering, test and production centers, subcontractors and co-contractors. Access can be differentiated and controlled
Collaboration is reinforced: changes can be carried out simultaneously by all members of the same project team.
IT installations are simple (only the web server) and can be hosted by your services or by Knowllence if you choose the SaaS mode (hosted in France).